Meet our Team
Most of our personnel come from the previously disadvantaged communities of Atlantis and Pella, although recently we have employed several staff members who found refuse in South Africa from different African countries in turmoil. We conduct intensive staff training programmes on topics ranging from the importance of industrial hygiene to the specific cutting techniques applied to a wide variety of crops.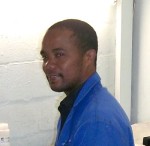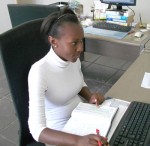 Morné started working with us in November 2000 assisting with the medium preparation. Through hard work and great interest in the laboratory, he has been responsible for running the laboratory in all its details since 2006.
He has been assisted by Carolyn for the last year, allowing him to spent time as a technical consultant at various projects outside ALBA laboratories.
Our medium preparation team, Justice and Willy, are making sure that the medium is prepared. To allow maximum use of our autoclaves, they work until the job is finished and do not hesitate to come in even on a Saturday!
And of course we have our team of valuable staff members that propagate the plant material. They make sure all orders are produced in the laboratory and prepared for shipment to their final destination.