International Efficiency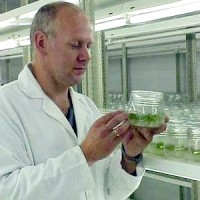 ALBA laboratories was launched in 2000 by Dr. Michiel van Asch.
Michiel being a graduate of the Agricultural University of Wageningen, the Netherlands, and the University of Natal, South Africa, has gained over 20 years' experience in plant tissue culture and management.
Specialist knowledge and an uncompromising attitude towards quality and service have positioned ALBA in being the partner of choice of leading growers and discerning breeders worldwide.
We fully recognised and respect the International Plant Breeders' Rights and therefore every product commissioned must be accompanied by a declaration to prove that our customer is allowed to propagate the plant material.
Please note this also means we are not allowed to sell most of our plant material to a third party without written permission of the owner of the plant material. We will maintain strict customer confidentiality at all times, but are happy to enquire whether our customers are looking for new markets.