Plant Material for Sale
As most of our products are exclusively produced for the owners of the plant material, only one product is commercially available for third parties:
Giant bamboo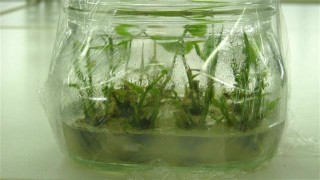 Since 2005 we have been involved in various projects that deal with the establishment of Giant Bamboo at a commercial scale. We were approached by one of the many companies that see bamboo to be the tool for uplifting rural communities all over the African continent. The global problems of CO2 emission that is warming up the earth's atmosphere at an alarming rate can be balanced by planting trees.
Giant bamboo is a non-invasive grass that can reach on average 15-20 metres in height. Until recently no commercial plant material of giant bamboo was available locally and all plant material needed to be imported. At ALBA laboratories we invested in Research and Development to establish a protocol for the propagation of several giant bamboo species. Currently small trials are being performed with plant material that is of 100% African origin and plant material of Bambusa balcooa is available commercially.